Around 200 Ukrainian soldiers have completed training on the American combat vehicles
The first shipment of US-made M1 Abrams battle tanks is set to arrive in Ukraine in a matter of weeks, a Pentagon official told Politico, noting that 10 of the 31 tanks promised to Kiev are currently in Germany to complete refurbishments.
With dozens of Ukrainian troops wrapping up training on the US tank, the first delivery is expected sometime in mid-September, according to an unnamed defense official and another source familiar with the discussions cited by the outlet on Thursday.
The official added that the ten M1 Abrams tanks are now in Germany for final repairs and renovations. The Ukrainian soldiers instructed on the weapon have also trained at multiple bases in Germany, where they will remain until the tanks are ready.
"The US is committed to expedite delivery of the 31 tanks to Ukraine by the fall," US Army spokesman Col. Martin O'Donnell told Politico, adding that the Ukrainian troops would continue training at the US Army base in Grafenwoehr, Germany.
Though the Pentagon initially predicted a longer timetable of more than one year for the Abrams shipments, officials vowed to speed up the process last March, instead opting to send the tank's older M1A1 variant in hopes of completing the first transfer by the fall of 2023. The M1A1 models required major refurbishments, however, with the Pentagon saying the procedure would cost over $400 million.
President Joe Biden initially said he would not authorize the Abrams for Ukraine, but his administration later reversed course, ultimately pledging to transfer 31 M1A1 models in order to convince Berlin to send its own Leopard battle tanks. Western states have since promised to provide around 300 battle tanks in total.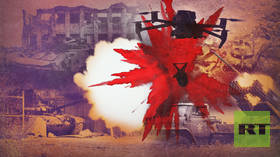 News of the mid-September deadline came soon after the White House approved its latest weapons package for Ukraine, valued at some $250 million. The new aid includes additional munitions for the HIMARS rocket system, AIM-9M air defense missiles, Javelin and other anti-tank weapons, as well as 3 million rounds of small arms ammunition. Officials have voiced hopes the arms will assist Ukraine's lagging summer counteroffensive, which has struggled to reclaim land from Russian forces.
Moscow has repeatedly condemned US arms shipments to Kiev, insisting they will only prolong fighting and do little to deter its objectives. The Russian Embassy in the United States blasted this week's transfer as "the height of hypocrisy," declaring that  US officials "will not give up the concept of fighting Russia to the last Ukrainian."
You can share this story on social media: